Print Recipe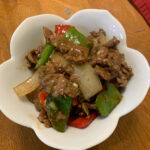 chinese pepper steak
Print
Ingredients
1-

pound

flank steak

cut into 1/4-inch thick strips*

2

tbl baking soda

1/4

cup

soy sauce

divided

1/3

cup

dry sherry

divided

2

tablespoons

corn starch

1/3

cup

low-sodium chicken stock

1

tablespoon

sesame oil

1

tablespoons

sugar

1

tablespoon

freshly ground black pepper

2

green bell peppers

cored and cut into 1-inch squares (about 2 cups)

1

red bell pepper

cored and cut into 1-inch squares (about 1 cup)

1

medium onion

cut into 1-inch strips from pole to pole (about 1 1/2 cups)

2

medium cloves garlic

finely minced (about 2 teaspoons)

2

teaspoons

finely minced fresh ginger

3

scallions

whites only, finely minced

4

tablespoons

vegetable

peanut, or canola oil

kosher salt to taste
Instructions
place beef in a colander and sprinkle the baking soda over the meat to tenderize.

toss to coat with your hands and then rise off under cold running water

marinate the meat in 1 tablespoon soy sauce, and 1 tablespoon wine in a bowl and toss to coat.

let marinate for at least 20 minutes at room temperature and up to 3 hours in the refrigerator.

meanwhile, combine remaining soy sauce with corn starch and stir with a fork to form a slurry.

add remaining wine, chicken stock, sesame oil, sugar, and pepper.

set aside.

combine peppers and onions in a bowl and set aside.

combine garlic, ginger, and scallions in a bowl and set aside.

when ready to cook, heat 2 tablespoons oil in a wok over high heat until smoking.

add the beef and cook without moving until well seared, about 2 minutes.

continue cooking while stirring and tossing until lightly cooked but still pink in spots, about 2-3 minutes.

transfer to a large bowl.

wipe out wok.

add 2 tablespoons oil and the peppers and onions.

stir and toss for 2-3 minutes until slightly tender

return beef to wok and add garlic/ginger/scallion mixture.

cook, tossing and stirring until fragrant, about 30 seconds.

add sauce and cook, tossing and stirring constantly until lightly thickened, about 60 seconds longer.

carefully transfer to a serving platter and serve.
Recipe Notes
*freeze beef for 1 hour before slicing to make it easier