Detroit style pizza is baked in a rectangular pan with oil on the bottom and cheese all the way to the edge to create a caramely-crisp crust.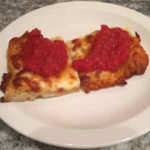 detroit style pizza
Print
Ingredients
1

pizza dough

6

ounces

shredded part-skim mozzarella cheese

6

ounces

shredded wisconsin brick cheese or sliced muenster cheese

one 15-ounce can no-salt-added crushed tomatoes

1/2

teaspoon

dried italian seasoning

1/2

teaspoon

sugar

salt & pepper

olive oil
Instructions
preheat the oven to 450 degrees.

brush a 10-by-14-inch metal baking pan with olive oil, then press the dough into the pan until it's consistently even throughout the pan.

if the dough keeps pulling back from the edges, cover it loosely with a kitchen towel and let it sit for 15 minutes, then go back and finish pressing the dough to the edges of the pan.

top pizza with the sliced muenster and then the shredded mozzarella, spreading the cheese all the way to the edges

bake the pizza for 15 to 20 minutes.

the bottom crust should be golden brown, with caramelized cheese all along the edges.

meanwhile, make the sauce:

combine the crushed tomatoes, dried italian seasoning, sugar, salt and pepper in a medium saucepan over medium heat, stirring until well blended.

reduce the heat to low to keep it warm.

once the pie is fully baked, use large spatulas to loosen the whole pizza from the pan and transfer it to a cutting board; let it rest for a minute, then cut it into squares and spoon the warm tomato sauce on top (a large spoonful or two per serving).
i used these items to make this dish:
the links above are affiliate links, which pays me a small commission for my referral at no extra cost to you! thank you for supporting www.aisle3nj.com