Print Recipe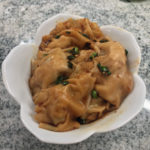 pork and scallion dumplings
Print
Ingredients
-pound ground pork

2

tablespoons

sherry

1

tablespoon

grated ginger

1

clover grated garlic

2

teaspoons

soy sauce

½

teaspoon

kosher salt

1

bunch scallions

chopped

dumpling wrappers
Instructions
to prepare the filling, place the ingredients in a mixing bowl, and use your hands to combine them until they are well blended.

place a rounded tablespoon of the filling at the center of each wrapper, and gently squeeze the edges shut.

as you work, push out any air bubbles and fix any tears.

when ready to eat, bring a large pot of water to boil.

boil the dumplings 6 at a time, for 6 to 8 minutes, or until they float to the surface and the wrappers turn puffy and translucent.

use a slotted spoon to transfer to a plate and serve immediately.