Print Recipe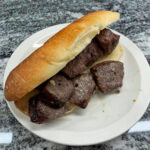 spiedies
A popular sandwich from upstate NY
Print
Ingredients
2 to 3

pounds

beef

cut into small cubes, at most 1-inch square

kosher salt and black pepper

to taste
for the marinade:
1

cup

extra-virgin olive oil

¾

cup

red wine vinegar

zest of 1 lemon

¼

cup

freshly squeezed lemon juice

about 2 lemons

4

cloves

garlic

peeled, smashed and roughly chopped

1

bay leaf

1

tablespoon

thyme leaves

1

tablespoon

oregano leaves

1

tablespoon

basil leaves

rolled and chopped into chiffonade

1

teaspoon

granulated sugar

1

teaspoon

kosher salt

1

teaspoon

freshly cracked black pepper

1

teaspoon

red pepper flakes

or to taste

Sub rolls
Instructions
make the marinade: whisk together all the ingredients in a large bowl.
add the meat to the marinade and cover tightly, or place into large, re-sealable plastic bags and refrigerate for 24 to 36 hours (or 10 to 12 hours for chicken).

build a fire in your grill, leaving about 1/3 of grill free of coals, or set a gas grill to high.

remove the meat from its marinade and thread onto metal skewers, or wooden ones that you have soaked in water for 30 minutes or so.

the chunks can be placed quite close together.

sprinkle with salt and pepper.

when coals are covered with gray ash and fire is still quite high (you can hold your hand 5 inches above coals for only a couple of seconds), place the skewers of meat directly over the flames.

allow the meat to cook, undisturbed, for approximately 3 to 4 minutes, then use kitchen tongs to turn them over and repeat on the other side.

continue turning the skewers every couple of minutes until the meat is deeply crisp at its edges, and cooked entirely through, approximately another 5 to 7 minutes.

(remove them to the cool side of the grill if they begin to burn, and cover the grill to allow them to smoke-roast until finished; this is much less likely to happen on a gas grill.)

allow the spiedies to rest on a cutting board for a few minutes, then remove the meat from the skewers onto cut hero rolls or a plate.

serve with hot sauce on the side.